Mars Climate Orbiter – 1998
Crashed on Mars for not converting kilometers to miles
The Mars Climate Orbiter was a 338-kilogram robotic space probe launched by NASA to study the Martian climate, Martian atmosphere, and surface changes. However, on September 23, 1999, communication with the spacecraft was lost as the spacecraft went into orbital insertion.

On November 10, 1999, the Mars Climate Orbiter Mishap Investigation Board released a Phase I report, detailing the suspected issues encountered with the loss of the spacecraft. Previously, Trajectory Correction Maneuver-4 was computed and then executed on September 15, 1999. It was intended to place the spacecraft at an optimal position for an orbital insertion maneuver that would bring the spacecraft around Mars at an altitude of 226 km. However, during the week between TCM-4 and the orbital insertion maneuver, the navigation team indicated the altitude may be much lower than intended at 150 to 170 km. Twenty-four hours prior to orbital insertion, calculations placed the orbiter at an altitude of 110 kilometers; 80 kilometers is the minimum altitude that Mars Climate Orbiter was thought to be capable of surviving during this maneuver. Post-failure calculations showed that the spacecraft was on a trajectory that would have taken the orbiter within 57 kilometers of the surface, where the spacecraft likely disintegrated because of atmospheric stresses.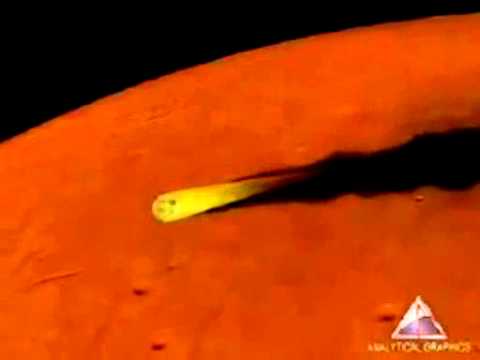 The primary cause of this discrepancy was that one piece of ground software supplied by Lockheed Martin produced results in a United States customary unit, contrary to its Software Interface Specification (SIS), while a second system, supplied by NASA, expected those results to be in SI units, in accordance with the SIS. Specifically, software that calculated the total impulse produced by thruster firings calculated results in pound-seconds. The trajectory calculation software then used these results - expected to be in newton-seconds - to update the predicted position of the spacecraft.

The discrepancy between calculated and measured position, resulting in the discrepancy between desired and actual orbit insertion altitude, had been noticed earlier by at least two navigators, whose concerns were dismissed. A meeting of trajectory software engineers, trajectory software operators (navigators), propulsion engineers and managers, was convened to consider the possibility of executing Trajectory Correction Maneuver-5, which was in the schedule. Attendees of the meeting recall an agreement to conduct TCM-5, but it was ultimately not done.